The new 'Harlow' Collection from TOSCA is a game-changer in the world of fashion-forward and functional bags. If you've been on the hunt for the perfect travel companion that seamlessly blends style and utility, your search ends here. The Harlow is a testament to TOSCA's dedication to creating bags that meet the needs of the modern traveler, combining simplistic design, durability, versatility, and astonishing lightweight carry bags suitable for every occasion.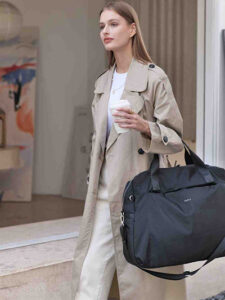 One of the standout features of the Harlow Collection is its diverse range of bag types. Whether you're a backpack enthusiast, a tote lover, or prefer the convenience of a shoulder bag or a slinger bag, the Harlow Collection has you covered. But the true star of the show is the barrel backpack tote, a piece that is as versatile as it is stylish. Designed to serve as both a tote bag and a backpack, this piece ensures you're always ready for any journey, whether it's a casual day out or a grand adventure.
The collection stands out not only for its versatility but also for its remarkable construction. Crafted from composite memory nylon, these bags are not just durable but also exceptionally lightweight. You won't have to worry about your bags weighing you down, allowing you to pack more and move with ease throughout your travels. This innovative material is a game-changer, making these bags perfect for those who are always on the go.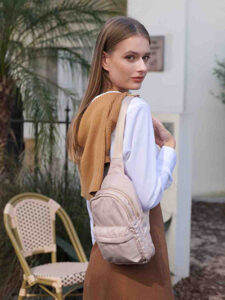 Furthermore, the Harlow Collection is available in five elegant colors to suit your style and preferences. Choose from classic options like Black, Beige, Navy Stitch, or Khaki Stitch, all featuring a quilted look for that extra touch of sophistication. TOSCA's commitment to style shines through in this collection, ensuring you not only have a functional bag but a fashionable one as well.
In summary, the Harlow Collection by TOSCA offers a wide range of bag types, versatility for all occasions, and a stylish, lightweight design. When it comes to choosing the perfect travel companion, the Harlow Collection sets a new standard in the world of fashion and functionality. Don't miss out on the opportunity to elevate your travel experience with these exceptional bags.
Check out the full TOSCA Harlow Collection and some of our favourites below.