International and domestic tourism has continued its recovery in 2022 and for us Australians, city travel is back in a big way! After more than two years of restrictions and avoiding city centres, travellers are eager to return to their favourite capital cities and overseas destinations. In March alone, there was an increase of 158,980 departures* (Australian Bureau of Statistics). This is terrific news for our brand and the travel industry as a whole.
To celebrate, TOSCA is pleased to introduce our all-new soft luggage case range, the Aviator. This is the latest luggage offering from Australia's own luggage and travelgoods brand. In addition to the brand new Aviator range, new colour options are available for some of our best selling luggage ranges in the Warrior and Triton. See below for further details.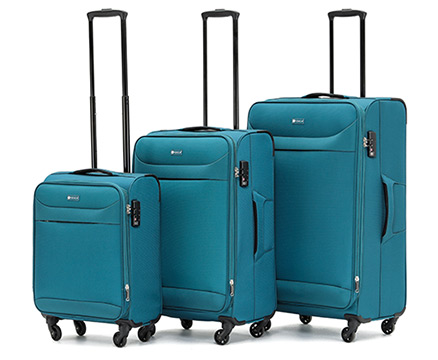 Aviator (Soft Case Luggage)

The TOSCA Aviator is a lightweight, soft trolley luggage case range packed full of features. Its deluxe nylon construction ensures a light pick-up whilst also providing exceptional protection for your packed items. Deluxe easy dual glide wheels, internal trolley system and easy grip handle provide smooth passage to and from your destination. This extremely lightweight range comes in three sizes, in black or teal colouring. The large suitcase (29″) has a packing capacity of 110 litres, with the expander provides you with that little bit of extra packing space. Weighing only 3kg, it is one of the lightest large luggage cases in the market.
Features, let's talk about features! Let's start with the deluxe polyester nylon fabric. Both durable and lightweight, the Aviator will be able to handle the toughest of trips. Expanders on all sizes provide that little extra packing room for those additional purchases whilst easy glide deluxe wheels make manoeuvring in and around the airport terminal a breeze. Finally, cargo straps & pockets allow travellers to separate packed items. The TOSCA Aviator delivers on quality, durability and style and is the perfect choice for travellers that prefer soft sided luggage.
Warrior (Hard Case Luggage)

The Warrior is now back in stock and there's a wonderful new colour-way available – Hot Pink! Travel loud with our all new hot pink and Lime coloured Warrior suitcases. The Warrior is a hard luggage case range, featuring a lined contoured mould. The raised and stylish bar textured design gives a modern feel to design whilst the Grade A polypropylene outer shell provides superior protection for your packed belongings. You certainly wont have any trouble finding your lime coloured Warrior case on the luggage carousel! The Warrior is available in three sizes (large, medium and carry on) and in Hot Pink, Lime & Silver.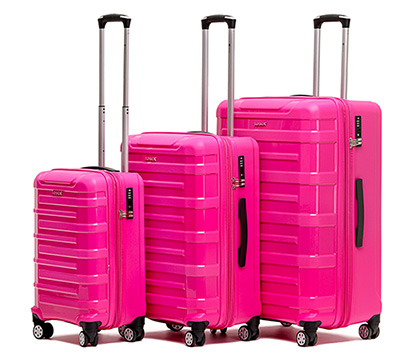 Triton (Hard Case Luggage)

The TOSCA Triton is one of TOSCA's best selling hard luggage ranges. A lightweight and durable suitcase, the Triton is packed full of features and the perfect choice for modern travellers. It's ribbed hard shell and stylish design not only looks great, it provides superior protection for your packed belongings. Silver is a brand new colour-way for the Triton, a coloured suitcase you'll have no trouble distinguishing on the luggage carousel. Available in three sizes (large luggage case, medium luggage case, carry on suitcase), there is three colours to choose from, Rose Gold, Charcoal. The Triton is positioned at a great price point in the luggage market. It has all the features expected by travellers, has a strong and durable polypropylene hard shell and is lightweight.
TOSCA Travelgoods sales manager Wayne Pearce is excited at what lays ahead for Aussie travellers. "There's no question that people are wanting to travel.  Airlines, travel companies, TOSCA retail stores and our stockists are certainly getting busier, be it online sales or foot traffic in-store.  We (TOSCA) will continue to replenish stock of our existing ranges, along with bringing in some exciting new luggage options.  We think the bright colours of the Warrior will appeal to travellers of all ages, whilst the colour additions to the Comet (yellow) and the Triton (silver) will again provide travellers with plenty of travel luggage choices.   The TOSCA Maddison is a new hard luggage range that will be available later in the year. The Maddison will feature a embossed snake skin pattern in three beautiful pastel colours; lilac, pink and mint. We look forward to seeing those in store soon." 
Follow the TOSCA brand on our social channels (Instagram & Facebook) for further product updates, sale information and news. You can also sign up to our e-newsletter and receive the latest updates straight to your inbox. For additional information on TOSCA Travelgoods, our products or wholesale opportunities, please contact the team at sales@toscatravelgoods.com.au
For Tips on packing your luggage – check out our tips here!
Blog Image attribution: Airport terminal photo created by prostooleh – www.freepik.com