Travel is back! The borders are re-opening and we will soon be able to jet overseas (covid safe of course) to see our friends and family. How good 🙂
Celebrate the re-opening of Australia and purchase this travel season's latest travel luggage from Australia's own luggage and travelgood brand, TOSCA.
We are proud and excited to introduce our all-new hard luggage ranges for you, the Warrior and the Eclipse.
Eclipse (hard case luggage)
The Eclipse range of hard case luggage is one cool looking luggage case. It is our favourite hard luggage piece currently available in-stores and online. For those travellers that prefer a hard case for that extra protection of my packed items whilst in transit, the Eclipse provides your packed travel goods with plenty of protection. The Grade A polypropylene Outer Shell outer shell is super lightweight and provides superior protection.  The large case (29″ trolley case) has a packing capacity of 125 litres, the additional expander provides you with that little bit of extra packing space
Features, let's talk about features!
Let's start with the look! The raised ripple textured design gives a the case a modern and stylish feel and look great with the matte finish colour offerings of purple, charcoal and blue. Expanders on all sized suitcases also provide that little extra room for those additional purchases. Easy glide deluxe wheels make manoeuvring in and around the airport and hotels a breeze. Finally, cargo straps & pockets allow travellers to separate packed items.
Tip: Packing Cubes are the best travel accessory you'll ever buy!
Warrior (hard case luggage)
The Warrior is another hard luggage case, featuring a lined contoured mould. The characteristics and features mimic that of the Eclipse range, with the Warrior just that little bit heavier when it comes to luggage weights.
The raised and stylish bar textured design gives a modern feel to design whilst the Grade A polypropylene outer shell provides superior protection for your packed belongings. You certainly wont have any trouble finding your lime coloured Warrior case on the luggage carousel! The Warrior also comes in black & silver.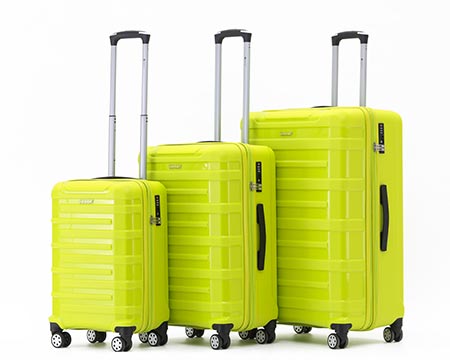 It's certainly been a tough time for all travel related businesses and industries over the past two years, but things are finally looking up! We encourage you all to continue to support Australian owned businesses as we start to open up.
We think you're really going to love our Warrior and Eclipse luggage ranges. It's going to make travelling so much easier (and exciting). Check out the new ranges and let us know what you think!
Follow the TOSCA brand on our social channels (Instagram & Facebook) for further product updates, sale information and news. You can also sign up to our e-newsletter and receive the latest updates straight to your inbox.
For additional information on TOSCA Travelgoods, our products or wholesale opportunities, please contact the team at sales@toscatravelgoods.com.au