TOSCA has unveiled its refreshed identity that captures the essence of this long-standing Australian owned luggage business.
With a modern and sleek logo that stays true to its heritage, TOSCA is ready to awaken the senses and invite you to a whole new experience. Embodying strong design, sophistication, and passion, the reimagined TOSCA brand reflects the brand's commitment to delivering exceptional products and unforgettable travel experiences.
The new branding, with its clean lines and refined typography, embraces a contemporary aesthetic. It speaks volumes about TOSCA's dedication to craftsmanship and attention to detail. The new TOSCA logo and brand aim to ignite your curiosity and inspire you to explore the extraordinary. Whether you are purchasing TOSCA luggage for the first time, or a long time customer, every encounter with the brand is designed to be a memorable one.
TOSCA rebrand
Every brand goes through an evolution over time, reflecting changes in consumer preferences, market trends, and the brand's own growth. TOSCA, with its rich history dating back to the 1960's, is no exception. The previous TOSCA logo and brand, while iconic, needed a refresh to align with the evolving tastes, emerging markets and expectations of today's consumers.
The brand's loyal customer base has grown to include a younger demographic who sought a more contemporary and sleek look. TOSCA recognized the need to evolve while preserving its heritage and timeless charm. Thus, the decision to embark on a rebranding journey was made, with the goal of revitalizing the brand and attracting a wider audience without alienating its existing customers.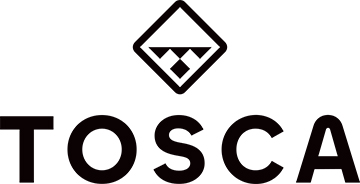 The new TOSCA logo and brand are poised to make a significant impact in the market. With its modern and sleek design, the logo is eye-catching and memorable, ensuring that TOSCA stands out among its competitors. In addition to the new logo, TOSCA introduced a range of brand elements that complement the visual identity. These elements include a refined color palette, new icon, and a consistent visual language that can be seen across all touchpoints, from packaging to digital platforms. The brand elements work together harmoniously to create a cohesive and memorable brand experience for consumers.
The Future
Customers, both existing and new, have embraced the new TOSCA logo and brand with enthusiasm. They appreciate the brand's commitment to evolving while preserving its heritage and timeless appeal. Many customers have expressed their eagerness to explore TOSCA's range of products and experience the brand's new visual identity firsthand.
"We are excited as a brand to launch our new logo and icon.  Over the coming months, we will see some new and exciting luggage lines in stores right across the Country, featuring our new branding.  The new look T icon is bold, different and we love it. Australia, it's time to travel!" 
Clint Pearce
Director