You know that feeling you get when you open the box and your newly designed luggage range looks great and has features that are both stylish and practical? It's like a breath of fresh air – and to us travel enthusiasts, it's a beautiful thing. After all, creating products that will inspire travel and adventure is what we're all after, right?
That's why we're so excited to introduce our all-new hard and soft luggage ranges for you. We're also excited to have Sales Manager Wayne Pearce tell you more about it.
Bahamas (hard case)
The Bahamas range of hard case luggage is my personal favourite. I prefer a hard case personally, for that extra protection of my packed items whilst in transit. The ABS-polycarbonate outer shell is super lightweight and provides unparalleled protection. ABS-Polycarbonate is often more flexible and has a higher impact resistance. As a result, it makes for a stronger suitcase.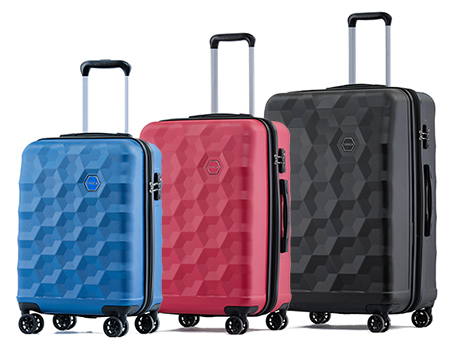 Features, let's talk about features!
Let's start with the look! The contoured pentagon textured design gives a fantastic futuristic feel to design. I just love it. Expanders on the medium and large suitcases also provide that little extra room for those additional purchases along the way (usually presents for the kids). Easy glide deluxe wheels make maneuvering in and around the airport and hotels a breeze. Finally, cargo straps & pockets allow me to separate my packed items.
Available in three great colours, Blue, Red and Black – i'll be rocking the red Bahamas 29″ Trolley Case this travel season.
Tip: Packing Cubes are the best travel accessory you'll ever buy!
Huston (hard case)
The Huston is another ABS-polycarbonate constructed hard luggage case that features a contoured mold. The characteristics and features mimic that of the Bahamas range, as too the price points for the two new luggage ranges. The Huston is a cool looking trolley case!
Transporter (soft case)
The Transporter is a great option if you prefer a soft shell or worried about the weight of your packed luggage. Soft case luggage is generally lighter allowing you to fit more packed items in.
It's not only super easy to use, it's packed with features that'll make your journey ever so easier! Cargo straps & pockets allow items to be separated and it also includes a zippered section (or wet pack) for your cosmetic items.
Lightweight luggage is the modern demand from today's traveler and the Transporter doesn't disappoint.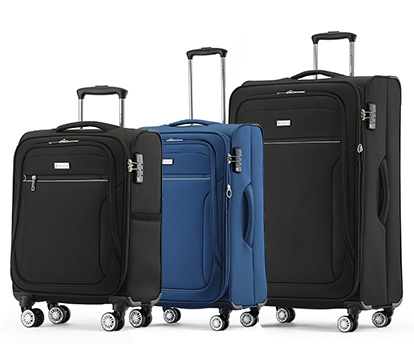 We think you're really going to love our Transporter, Huston and Bahamas Luggage ranges. It's going to make travelling so much easier (and exciting). Check out the new ranges and let us know what you think!
Follow the TOSCA brand on our social channels (Instagram & Facebook) for further product updates, sale information and news. You can also sign up to our e-newsletter and receive the latest updates straight to your inbox.
For additional information on TOSCA Travelgoods, our products or wholesale opportunities, please contact the team at sales@toscatravelgoods.com.au